Community cohesion in Colchester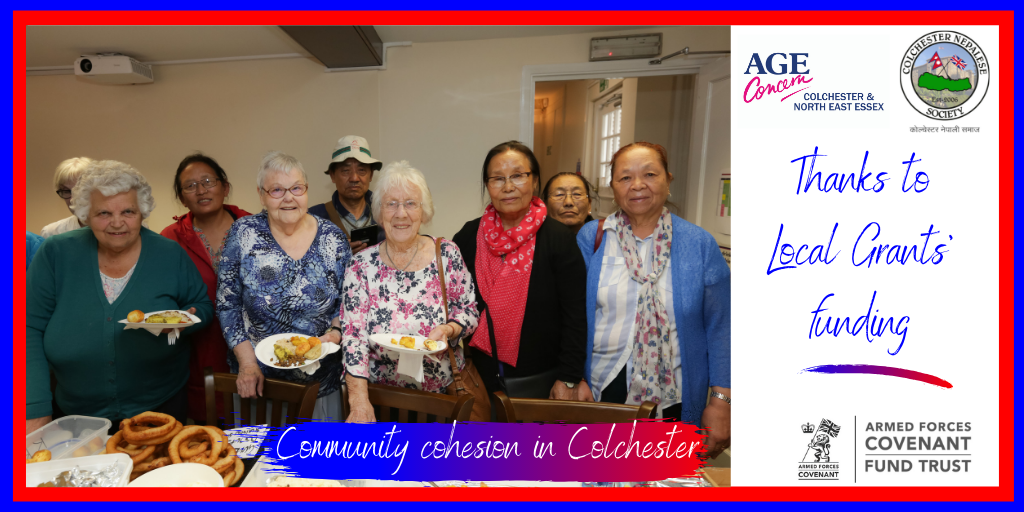 Age Concern Colchester is bringing the community together to tackle loneliness and explore different cultures thanks to funding from the Armed Forces Covenant Local Grants programme.
Working closely with the Colchester Nepalese Society, the group is hosting a variety of practical and holistic activities and events – all designed to help members make new friends and improve life for those in their later years. The project will reach Gurkha veterans and their families.
A curry and a chat
And what better way to bring people together than to enjoy some delicious Nepalese dishes! Friendship was the dish of the day, when the Nepalese Society put on a yummy spread for their British counterparts. Members enjoyed a traditional curry, savoury doughnuts and rice pudding.
The Nepalese Society integration project offers advice and practical support to help overcome some of the unique challenges the Nepalese community can face and encourage better integration and understanding between them and the wider local community.
Practical learning
Simon Prestney, CEO of Age Concern Colchester, told us: "Working with the Nepalese community is a privilege and we love having them as part of our journey at Age Concern. The work we are doing with the Nepalese community is designed to understand English in a very practical way. We are already seeing learning developing from those involved and we have had events where there has also been some early-stage integration as well. We look forward to the year ahead and we are very grateful for the funding to support us in the programme."
We wish them every success with their ongoing project and can't wait to hear more about the new friendships forged and opportunities explored!
Could your group apply for Local Grants funding?
The Local Grants programme aims to improve delivery of services to local Armed Forces communities and strengthen links between these communities and their civilian counterparts. Grants of up to £20,000 are available.