Introducing the AFCT Project Finder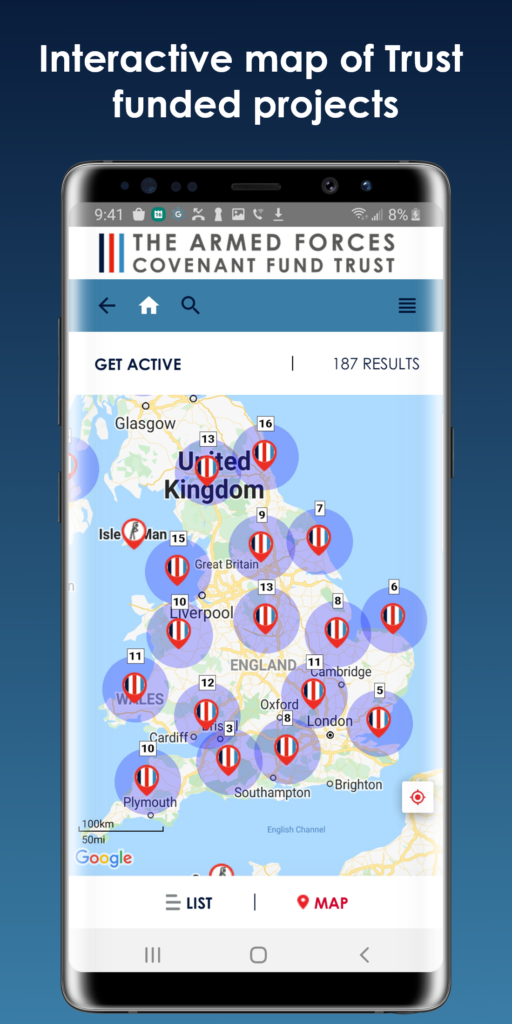 The Trust is excited to announce the launch of our very own app, the AFCT Project Finder.
Our free app, available on both Apple and Android networks, is the new way to discover and access the Trust funded projects in your local area.
With easy-to-navigate categories such as Get Active, Improve My Wellbeing, Supporting Additional Needs and more… we're delighted to be able to showcase the great work taking place across the UK in support of the Armed Forces community.
Our Project Finder can even be accessed via our website, simply click below to be taken straight to our interactive project map.
There, you'll also find download links to take our Project Finder mobile.
Is the AFCT Project Finder for me?
Yes, if you're part of the Armed Forces community and want to find out more about the great work taking place in your local area and beyond!
Every project featured on the app is currently in receipt of funding from the Trust, with each one supporting Service personnel, veterans, Service families or all three.
You'll also find a range of drop-in centres affiliated to the Association of Ex-Service Drop-In Centres (ASDIC). So, if you're looking for a friendly place to go, why not see what's in your area.
Please note: each listing on the app contains opening/session times and days as well as a short description of the activity or service on offer. However, during Covid-19 restrictions, these are subject to change. Please use the contact details provided on the listing to find out more.