Check list for applying for a NAAFI Fund grant
Check list NAAFI Fund grant
We've created an infographic as a check list of what you need to prepare in order to apply. We've included a check list and a guide for the Commanding Officers 'Letter of Endorsement'
The very first part of your application is to email NAAFI with your 50 word project summary; and do also tell them the amount of funding that you will be looking for. If your idea fits with the aims of the NAAFI Fund; then NAAFI will give you a code; and you'll then be able to submit your full application.
You cannot submit a full application for a NAAFI grant without this code.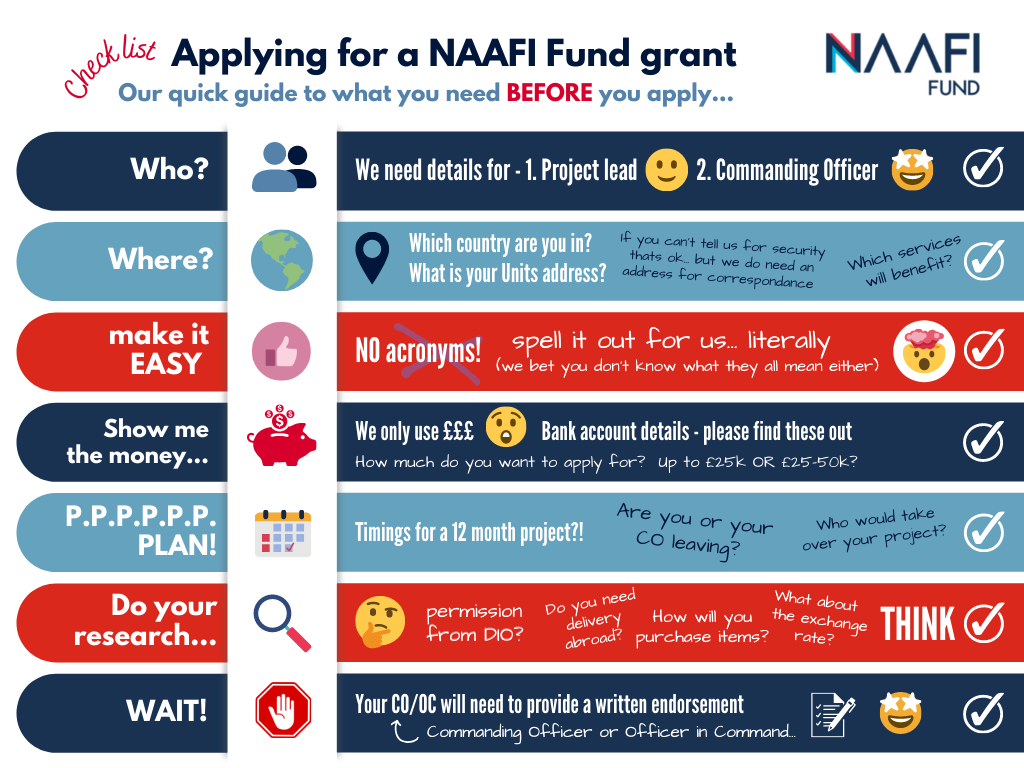 Check list for applying for a NAAFI Fund grant…
You need to have 2 Points of Contact for your grant:
The first contact will be the project lead
and the second will be your CO/OC.
We know that you may not be able to divulge your full location, but we do need to know what country / UK country you are based in, as well as your Unit's full name and which services will benefit from the project.
Please do not use acronyms in your name or if possible as part of your answers.
Funds a paid in GBP usually into your Unit bank account.
You will need to check if your unit has a bank account you can use.
You will also need to provide us with banking evidence if successful so we advise that you engage with your finance department before applying to find out that they will be able to supply an account to use for this funding to be paid into as well as the relevant evidence for it.
You have 12 months for these projects, which will start from the date you receive your offer letter (around mid-august for the 2022/2023 fund).
When planning to apply, please ensure you take this into account and think about realistic timings for delivery.
We also advise that you make sure you have engaged with all the relevant people who need to be involved in the delivery of the project in advance to help with planning.
Consider things such as:
Will you need permission from DIO to decorate/use any space you wish to refurbish?
Will they or any other contractors be involved and if so, realistically what are the time scales here?
How easy will it be to get any items purchased for the project such as paddle boards/ bikes etc?
Especially if trying to deliver abroad?
Will you be purchasing overseas or from a UK company?
Does this affect time scales / cost?
What's the exchange rate?
Will you need to factor in changes to it?
Have you ensured you have the relevant permissions from your CO/OC to undertake the delivery of work in the time you have?
Who could pick up the project should you be deployed, or your priorities need to change?
Your CO / OC will need to provide a letter or email of endorsement for the project. Without this your application will not be considered.
Our infographic below shows further guidance on what this letter should include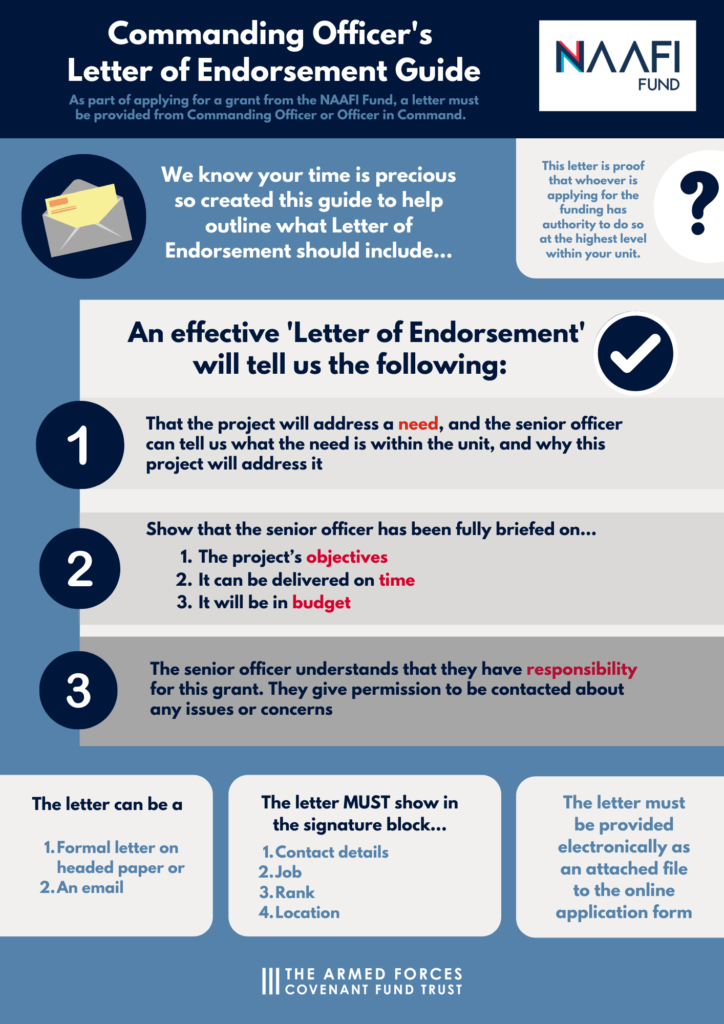 Full guidance is downloadable on our NAAFI Fund page under 'Guidance and resources'