In March 2020, the Armed Forces Covenant Fund Trust re-branded and released a new logo. We ask all projects we support to display it in some form – whether on promotional items, publications, buildings or somewhere else you feel is relevant.
Here is our quick guide to using our brand…
---
Using the Trust's logo

When using our logo, be sure to leave a space around the whole logo that is the same height and width of the 'O' in the word 'FORCES'.
Please don't make our logo any smaller than 200×40 pixels (approximately 50mm). If this is a problem, get in touch at info@covenantfund.org.uk
Our logo is available in three colour options: full colour, black, and white. Be sure to choose the one that works best for you and place it on an appropriate background.
We ask you to please always try and use the full colour version of our logo where possible; however, where this isn't appropriate, feel free to use the black or white alternative.
Other than resizing, please do not change our logo in any way.
Download the Trust's logo
Our logo is available in three file types: JPEG, PNG and EPS. Simply click on your chosen logo below, then right click the image and choose 'save image as…'
If you are adding our logo to a publication, you may wish to use an EPS file. Email us at info@covenantfund.org.uk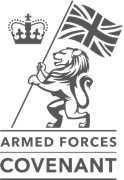 Using the Armed Forces Covenant logo
If you've received a grant award from the Trust, you must display the Armed Forces Covenant logo as part of your grant conditions. You can download the logo you need from the MOD's Brand Portal. Most projects prefer to use the version called AFC POS RBG in the PNG version.
Please note: you will need to create a free account to use the MOD's Brand Portal.
Promoting your grant award
Want to tag us into promotion of your award? We'd love you to give us a mention!
If you tag us into something on Twitter (@CovenantTrust), Facebook (@CovenantTrust) or Instagram (armedforcescovfundtrust), we'll try and give you a like or a share.
Please note that the Armed Forces Covenant is separate to the Trust and has its own social media tags. Find them on the Covenant website at www.armedforcescovenant.gov.uk
Promoting your listing on the AFCT Project Finder app
The Trust has recently launched its own app – the AFCT Project Finder, aimed at helping the Armed Forces community to learn more about the Trust funded projects in their area, and making it easier for them to get involved.
All* of our grant holders are invited to feature their project on the app and benefit from this great new way to reach the Forces community in their area(s).
*There are some exceptions to this, depending on the programme you are awarded under and the type of project you are delivering.
Listings on the app are restricted to those organisations currently in receipt of funding from the Trust and will last for the duration of your grant award.

Signing up is simple!
You'll receive details of how to sign up to the app on receipt of your grant offer letter, should you be awarded funding.

Once listed, we encourage you to promote your listing amongst your own network to help get the Armed Forces community accessing more great things in their local area!
We've created this handy, clickable graphic for you to download and use in your organisation's email signature block, your website or anywhere else you feel is relevant.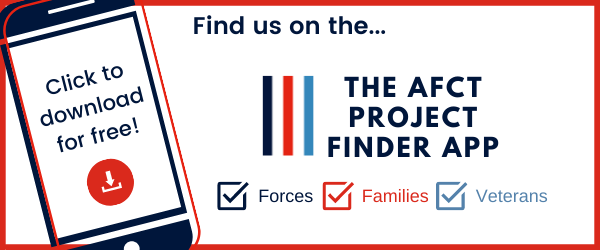 You can resize the graphic as needed but please do ensure the text is legible and the image does not become distorted. The graphic should link to the following page on our website, where users can find mobile downloads or search the interactive map using a computer: https://covenantfund.org.uk/find-a-project-in-your-area/
Instructions on how to add the clickable graphic to an Outlook email signature can be accessed here.