As part of your award conditions we ask you to tell us about the progress of your project as well as report at the end of your project too.
The good news is that this can all be done online.
As well as the more formal report you'll need to complete, we'd love you to email us any press cuttings, press releases, images or video footage, which we may feature in our own communications to celebrate the great work you've been doing.
Short guide to completing your report
Step 1: Accessing your account
We'll send an email to the address you told us was the main point of contact for your grant. Ideally, it will be the same email address that was used to set up the account when you made your application. This email tells you the type of report we need you to complete and will give you a deadline to submit it by. It will also provide you with a link to the log in screen.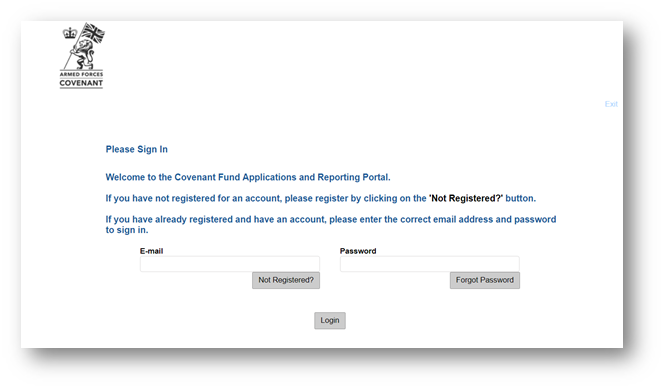 Your log in will be the same as when you first made your application.
Don't have the log in details? Clicking 'not registered' won't work here.
Instead, email us with the details of the person trying to access the report (name, email, phone number, job title) and we will transfer the online account over to that person. This will make that person the new main point of contact for the grant.
Once we've transferred the account, the new person will receive an email asking them to click a link to input their email as a user name and create a password. This will complete the log in set up, and we can then assign the form (and any future forms required) to that new account.
Step 2: Opening your report form
Click on the Requirements button which will then open the list.
The form you need to complete will be in the New Requirements section of your account.

You will see:
the form hyperlink
the date it was uploaded, and, most importantly
the date it is due for submission.
Step 3: Returning to your report
If you don't complete your report all at once, don't worry, You can easily return to it.
Once you've opened the form, it automatically moves to the 'In Progress Requirements' section, and so, on returning to your form, after logging in, select this option from the drop down menu on the right to find it.
Step 4: Completing your report
REMEMBER: the report will time out after 30 minutes. So save regularly to avoid losing your work.
We recommend you draft your answers offline first. You can access the questions you'll need to answer below…
The type of grant you have will determine which reports we need during the project.
Submitting your report
Once you've completed and reviewed your report, it's important you click 'Submit' at the bottom of the screen. Otherwise, your report will remain 'in progress'.

After clicking 'Submit', you'll be returned to your account screen and a red message will confirm your submission. You can then click 'submitted requirements' from the dropdown on the right to view the reports you have submitted.

We will send you an email to confirm your submission and give you a reference number and a copy of the form with your answers.
Once we're happy with your report, we'll pay your next grant installment as per the schedule we provided you, within your award letter.
Where possible this schedule should be followed; however, we understand there may be times you need to change what you wish to claim.
If this is the case, then please contact the relevant Grant Manager for that funding programme, or email info@covenantfund.org.uk
Please note: We may periodically ask you to provide us with new banking evidence, even if your account details have not changed. Please follow the guidance attached to the payment form, which you can find within the managing your grant section of our website.