Supporting Partners: Innovation Grants
*Important update to programme eligibility* We've reviewed our guidance and removed the requirement for charities and CICs to have been registered for 2 years prior to application. There are no further amendments to the programme guidance. Please scroll down for…
For projects supporting partners of serving personnel
Projects need to be innovative; and offer support in new ways
*Important update to programme eligibility*
We've reviewed our guidance and removed the requirement for charities and CICs to have been registered for 2 years prior to application. There are no further amendments to the programme guidance.
Please scroll down for full programme details.
The Trust has partnered with the MOD to administer the Armed Forces Families Fund. This programme provides funding to projects that will offer innovative, new forms of support for the partners of those who are serving.
Eligibility
We invite applications from the following types of organisations
Armed Forces Bases, Stations or Units
Charities registered in the UK
Community Interest Companies (CICs).
Universities in the UK
There is more information on who can apply in the programme guidance
What's available
Grants of between £20,000 and £50,000 towards projects which will pilot practical new solutions that will support Partners of serving personnel, including Reservists, to reduce the challenges of service life. Your project will need to be completed within a year
Themes and Priorities
Your project must meet one of the following aims
Encourage new ways of enabling peer to peer support
Enable better access to employment, education & training, or wider support
Reduce duplication and make it easier for partners to access knowledge and information that's relevant to their lives
Project ideas can build on existing work that an organisation has previously done; but it must be innovative in nature and offer new, inclusive and distinctive approaches.
Funding could be used to support projects that find solutions for partners facing challenging situations with overseas postings (whether going overseas or returning from overseas); piloting specific new types of practical support for partners; who may have different challenges to spouses or exploring solutions to challenges arising to family life from newer forms of hybrid working and deployments. There are more examples of the types of projects that could be funded in the programme guidance document.
Deadlines and Dates to Note
You must submit your application by 5pm Monday 12th December 2022.
We'll inform you of the outcome of your application before the end of February 2023.
Successful applicants will then be expected to start their projects before 1 May 2023.
Guidance and Resources
If you wish to apply for a grant, please read the programme guidance carefully.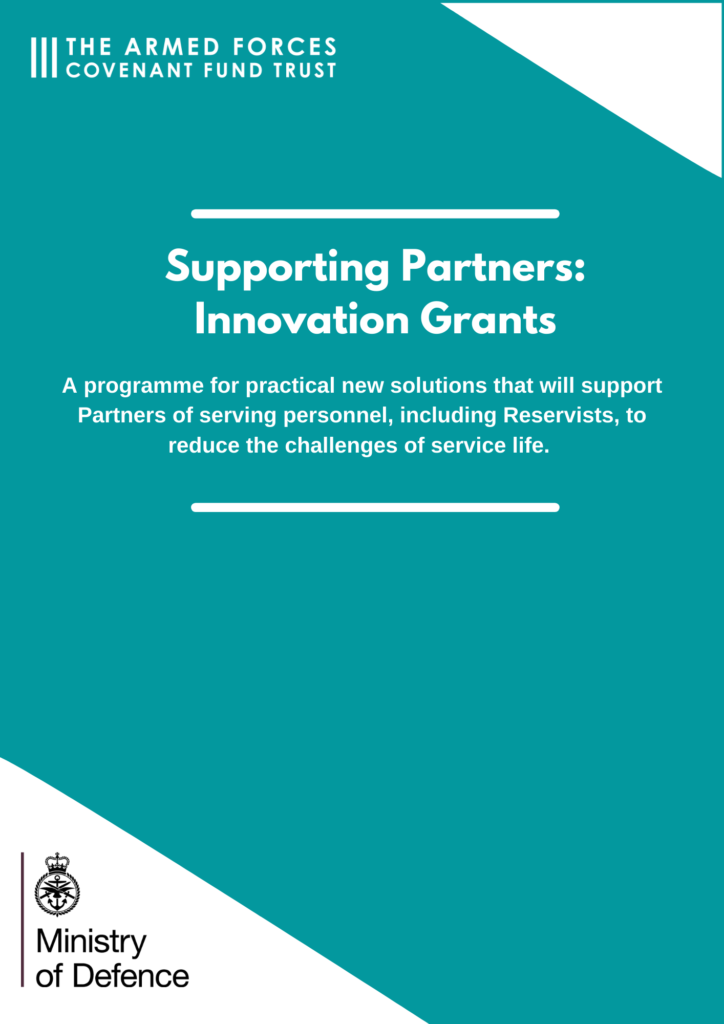 You'll need to apply for a grant through our online grants portal. There's more information on our online grants portal in the programme guidance.
You can access a copy of the application questions to help you prepare your application. The only way to apply for a grant is through our online grants portal.
You can also view the terms and conditions to receiving a grant.
Ready to apply?
If you've read the guidance and are ready to begin your application, please click below
Apply Now