"Whatever you do, you always put a smile on everybody's faces"
Project manager Mel sums up the experience of veterans undergoing the "Blue Health Recovery Pathway" programme.
Funded by a £70,000 grant via the Armed Forces Covenant Fund Trust's Positive Pathways programme, the Recovery Pathway has been externally validated via Dr Nick Caddick PhD at Loughborough University. The surf-based programme is clinically proven to improve the mental health of the veterans who partake in the scheme.
General manager Mark explains: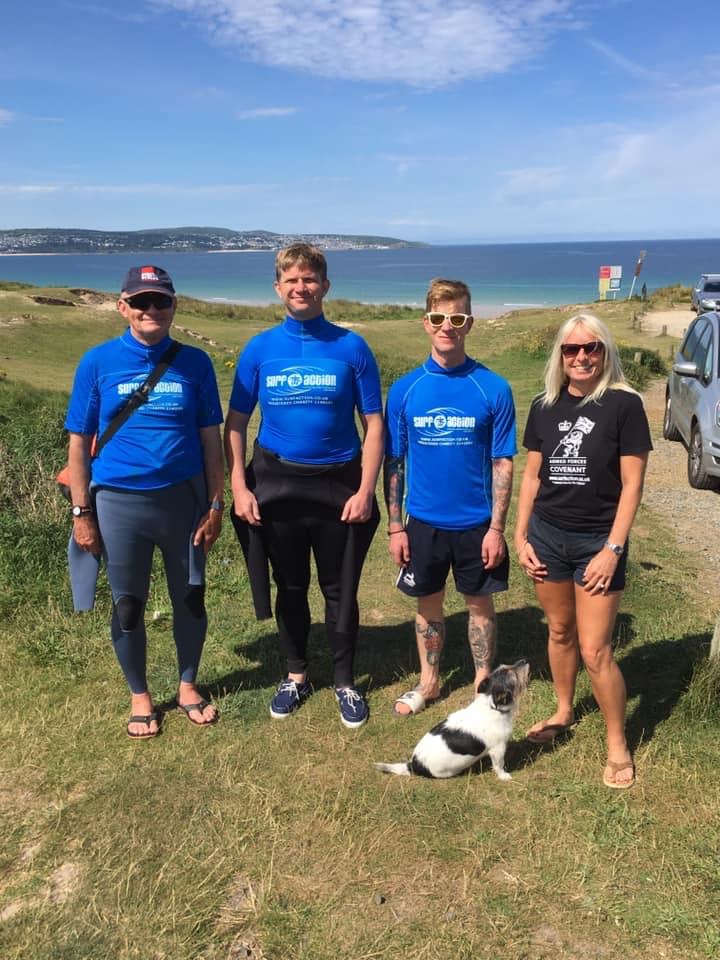 "Getting people in the water takes them out of their comfort zone. We get them into a wetsuit and rash vest and get them straight into the sea with a surfboard and we have a chat…and that instantly breaks down a lot of the barriers. They get the salt in their hair…we then let the ocean do a lot of the work for us! The psychological effect is instant."
Once the surf session is over, the Surf Action team then find out over a cuppa what it is they can do for their veteran, and what their physical and emotional needs are. At this point they can find out why the individual reached out for help in the first place. Once each client's needs are established, the team can then signpost them to different services if required.
The charity are keen to establish that they are not an "intrusive" service, and they will only respond when someone approaches them. They are a well-established military charity serving both Devon and Cornwall, and they often have veterans self-refer via word of mouth. They also have links through the Armed Forces charity network, local RAF and Naval bases in Cornwall and social media.
They have veterans using their services that have a variety of different life skills and experiences, and as Mark points out, it is often the peer to peer sessions that really help veterans find the practical help they need:
"We have veterans who want to become self-employed, or who want assistance with their pension or Armed Forces compensation, and don't know who to approach or where to go. As an organisation we are personally not able to advise, but if we know another veteran "in the know" we will ask them if they will talk to that other person to offer them advice."
If being pounded by the waves is not for an individual, or they don't feel their own personal fitness is up to scratch, Surf Action also offer a cliff walking group for those who prefer some low-level impact exercise. For those who feel they have become disengaged from their family and want to do something "together", Surf Action offer their "Community Integration Project" where clients can bring their children surfing at the weekends, which is a huge hit for the veterans and their families alike.
Whatever the level of engagement is that best suits the client, Surf Action can offer it. However they are very keen on offering that "personal service", and carrying on that level of contact, even in the face of the Covid-19 pandemic:
"We don't do Zoom meetings! We contact the veteran and find out where they are…and then we offer them a suitable place to meet with the correct social distancing in place. A beach side café…a beauty spot car park. Our therapist will then meet them there, buy them a cup of coffee, and then they can go for a walk and have a chat."
Suggested further reading…