Empowering the voices of Forces children
The Trust and the Directory of Social Change have published an evaluation report exploring the impact of just under £11.5M of grant funds that the Trust has awarded through the Covenant Fund to Empowering the voices of Forces children, supporting Armed Forces families that were experiencing difficult challenges.
Within that funding, £7.12 million was awarded to 60 projects under the Removing Barriers to Family Life programme.
Never Such Innocence (NSI) were awarded £100,000 for their 'Voices of Armed Forces Children' project, aimed at giving young people from Forces families a creative outlet.
Here, the organisation shares the story of 10-year-old Jacob who used poetry to share his experiences as a child from a Naval family…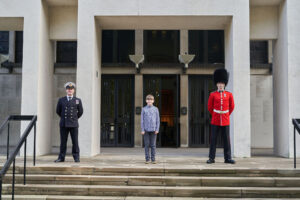 Empowering the voices of Forces children
At the onset of lockdown in March 2020, Jacob's mum was looking for activities to engage her two boys, when she came across NSI's project. This prompted the family to sit at the table together to discuss how they were all feeling about the upcoming deployment of their father, a submariner in the Royal Navy.
Jacob wrote a powerful poem, This is Normal for Me, and his brother William (9), painted a brilliant piece called Endless Hope.
Exploring family wellbeing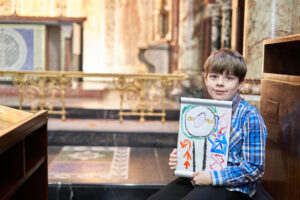 NSI's creative project opened the door to discuss the mental health and wellbeing of the family at a point of transition, which is something many Armed Forces families face throughout their career.
In May 2020, Jacob was awarded second place in his age group in NSI's international competition, being recognised out of 913 other poetry entries. He was showered with phone calls of congratulations, which really helped as his dad was completely out of contact at that time. It gave the whole family, including the extended family, an incredible boost at such a challenging time.

The Christian Defense Network invited Jacob to participate in their Remembrance Service by reading his poem. The whole family came to London to record Jacob's reading in the Horse Guards' Chapel and Jacob was presented with a Naval Regional Commander coin for his work. Both parents expressed their gratitude to NSI for the opportunity to have their voices heard – something which had not been previously possible.
Stimulating wider discussion
Following the visit to the Guards' Chapel, Jacob's teacher framed his poem and hung it in the classroom. The teacher shared how it stimulated a class discussion about how you never know what other people are going through and the importance of connecting and being kind to each other. The class was given a practical lesson on empathy, especially for the life of a service child, as the school is not military-connected and the boys are the school's only Service children.

Both their teachers and mum have said that Jacob's confidence has really increased and that the experience has given William a boost to be a more confident speaker.
Ahead of Remembrance Day, Glenn Haughton OBE MBA, Senior Enlisted Advisor to the Chiefs of Staff Committee, read Jacob's poem and shared it on Twitter. The video has been viewed over 42,000 times and received countless comments from Service members, veterans, families and others, noting how brave Jacob was to write his poem and how relatable it was to those in the Armed Forces.
The NSI 'Voices of Armed Forces Children' project is invaluable to the Armed Forces community, supporting not only Service members, but their spouses, children and extended family. The reach of the project stretches into schools and classrooms, giving Service and civilian children the opportunity to learn about one another and grow in empathy.
Removing Barriers to Family Life
The Removing Barriers to family Life programme focused on bringing families together and supporting them to deal with the many and varied challenges they can face. We're delighted to see the positive impact the work of Never Such Innocence has had on Jacob and his family and, indeed, the many other families who've benefited from the creative activities the organisation has provided.
We invite you to read Jacob's moving poem, This is Normal For Me…
This is normal for me
 This is normal for me, but some people don't know how it feels.
 It can get rough sometimes, children tease because I'm different.
 Dad is not there.
 I watch the sea for him, I stand still and stare.
  
 This is normal for me, but it might be different if you stayed around a lot.
 Christmas, birthdays, holidays, New Years, when we have been apart.
 Missing someone so much I have no words for being so sad.
 Separation and silence. 
  
 This is normal for me, counting days until you are gone,
 No mark on the calendar to count down your return.
 You had to leave me in hospital, I knew you had to go.
 You do such a good job and you were hurting too I know.
  
 This is normal for me, it would help if you knew how it feels.
 To feel special, to be part of my family and community.
 Every time I see you I am filled with such joy.
 You're important to me, you're important to everybody, our country.
 I still watch the sea. This is normal for me.