Family Life and the Armed Forces community
The Armed Forces Covenant Fund Trust and the Directory of Social Change have published an evaluation report exploring the impact of just under £11.5M of grant funds that the Trust has awarded through the Covenant Fund to support Armed Forces families that were experiencing difficult challenges.
The Trust awarded these grants under two different funding programmes: the £4.35M Families in Stress programme and the £7.12M Removing Barriers to Family Life programme.
Removing the barriers Forces families face
The aim in both programmes was to reduce barriers that exist for Armed Forces families.
These barriers can come in many forms and the Trust's funding programmes encouraged charities to work with Armed Forces units to meet those needs that Armed Forces families themselves identified as challenges.
Evaluating the positive impact of these programmes
The evaluation has shown that both programmes have had transformative effects for Armed Forces communities, achieved by the grants in this programme. These included the development of support networks within communities, improvements to health and wellbeing, and building confidence.
The Trust is delighted to share the stories of the grant holders. Their work has reached Armed Forces families across the UK, delivering innovative work to reduce domestic violence, supporting military spouse and partner employment and the development of the co-working hubs opening at or near various military bases, and supporting those families transitioning out of the Forces, or becoming more dispersed.
Projects have been able to support Service children during significant life events including deployment, illness/injury of a parent, moving home and school, parental divorce/separation, and distance from extended family.
Supporting carers of Forces veterans
But the funding has not just focused on Service children. Many projects also focused on the wider Forces family, including the families of veterans.
Royal Star & Garter were awarded £68,773 for their 'Family Matters' project, which brought new and extended support to families and carers of Armed Forces veterans and partners when their loved one moves into residential care.
The charity has established an online portal called Family Connections for family members and close friends, providing access to information about their loved one. This includes a photo gallery showing the activities that have been taking place in the Home.which can be useful for virtual conversations. There is also an activities schedule, weekly menu and a team section with photos and background of the team caring for loved ones in the Home.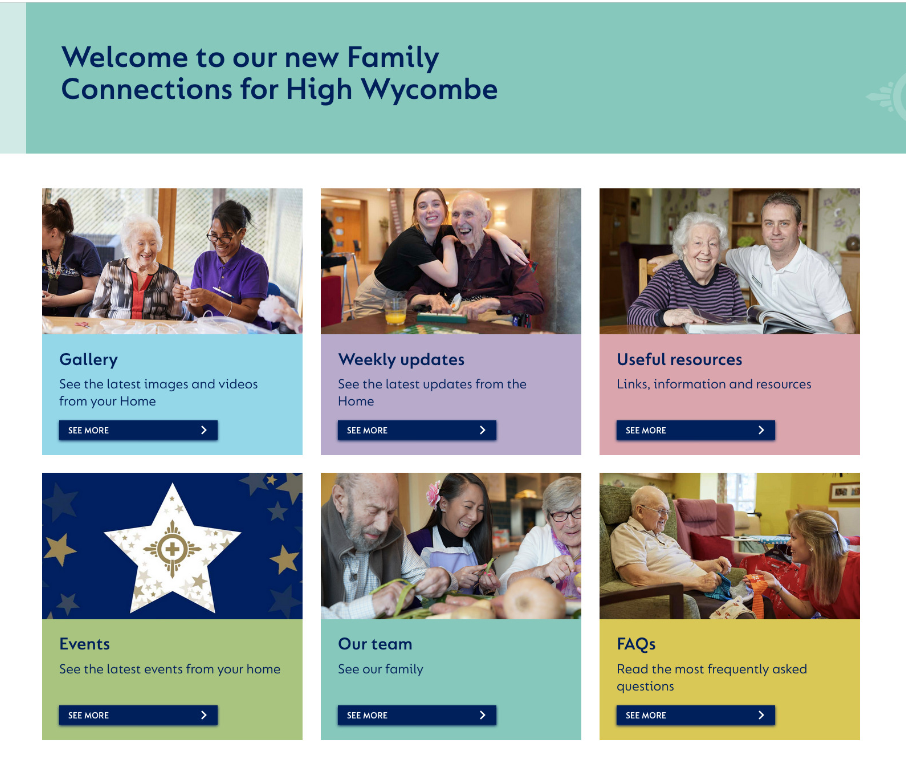 The charity has also included a useful resources section, with articles on a range of topics and signposting to other organisation's information that may be helpful, such as Dementia UK.
During Covid restrictions, this has proven invaluable in keeping families connected and showing the love and care their loved one is receiving. One relative commented: "I have set myself up on the system and just enjoyed a browse through the site. It is lovely and bright and full of content – so many smiling faces!"
Families can also use the portal's online booking system to book visits in Royal Star & Garter's Covid-secure visiting 'pods' (in line with government guidelines).
Family Connections had a soft launch in December 2020 and is now live across all three Homes in High Wycombe Home, Surbiton Home and Solihull.
Sophie Fanning-Tichborne from Royal Star & Garter told us: "We are so grateful to the Trust for enabling this to happen, as you can imagine it is an invaluable tool at the moment, and helps keep families and residents connected, as well as giving families who are unable to visit, some reassurance. We are still populating it with content and are yet to make the most of some of the features but have big plans to fully develop it."
The Family Matters project from Royal Star & Garter is a great example of the important role communication can play amongst Forces families – in this case the families and carers of veterans. Especially now, during the many restrictions Covid-19 has placed upon families everywhere, having a way to interact, share news and gain access to loved ones – even virtually – is invaluable and we're pleased to hear this is being used by the many families Royal Star & Garter support.
Find out more
We invite you to read the evaluation report and its findings and recommendations.