Military Coworking Network opens new hub in Cyprus
On 1 July 2021, the doors of the first overseas Military Coworking Hub will open at the Royal Air Force base, Akrotiri in Cyprus.
Military Coworking Network in Cyprus
One of twelve coworking hubs set up as part of the Military Coworking Network, the hub will help facilitate remote working, ensuring partners, spouses and families can maintain their careers while supporting their serving family members.
The particular challenge partners, spouses and children of serving personnel often face is the need to leave jobs, uproot their families and find new employment every six months to three years.
A stylish and modern coworking space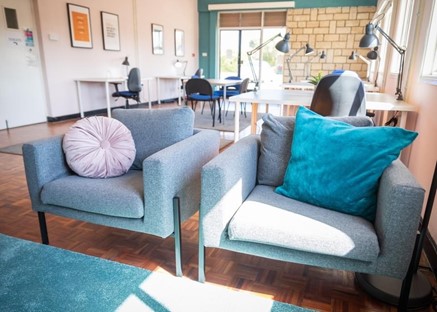 The Akrotiri hub provides a stylish and modern coworking space, within an existing building on the base. It includes eight desks, powerful WiFi, printing facilities, air conditioning, break out area and refreshments – all designed to support remote working and reduce isolation.
Station commander of RAF Akrotiri, Gp Capt Nikki Thomas said: "The RAF Akrotiri Coworking hub is a superb facility. Offering an excellent place to work, it will help create a network of like-minded people across the Akrotiri community and will hopefully provide a sanctuary for all those whose only option has previously been to work from home."
Many companies are looking to embrace remote and hybrid working post-pandemic. These roles are often ideal for military spouses and partners. The hubs give members the facilities and confidence to take up and keep remote roles, allowing them to build a career alongside living the military life.
Hub volunteer, Delyth Moylan said: "The hub is a gateway into a completely inclusive community. We want to stamp out the feeling of isolation and for our members to feel they can always come to the hub for support. We couldn't be more delighted with the response from our members."
Maria Lyle, Director of RAF Families Federation said: "I am absolutely delighted to see the opening of the fully refurbished Military Coworking Hub at Akrotiri. There has been a really active group of volunteers working hard to support this for some time, and this Hub will provide them – and those arriving in Cyprus – the opportunity to work, network and study in a professional environment. I would like to thank RAFA who have channelled the Covenant Trust Fund support to the Military Coworking initiative, and also the Annington Trust, whose funding supported some features. Lastly, it is worth highlighting that this is very much a tri-service effort, involving the support of the both the Naval and Army Families Federation to our work."
Find out more
Find out more about the Military Coworking Network at www.militarycoworking.uk