Celebrating the support of our Trustees this Trustees Week!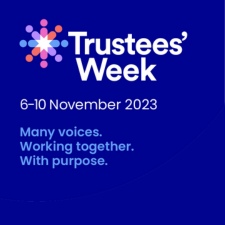 It's Trustees Week 6-10 November and we wanted to take the opportunity to not only thank our Trustees for their service to the Trust, but share a little more about just how important a role they play in supporting Armed Forces communities…
This year's theme is 'Many voices, working together. With purpose.' We couldn't sum up the role of our Trustees any better than this!
Our Trustees are our decision makers. An expert panel, who consider the applications we receive, and award funding based on a national picture of need, project type and funding available.
Aside from decision making, we call upon their knowledge in many other areas of our work including ethics, strategy and policy.
We asked one of our Trustees, Frances Nash, why she became involved with the Trust.
"I became involved with the AFCFT because it was a great opportunity to give something back to the Armed Forces community by using some of the skills I had developed during my career – I was a civil servant and had postings at MOD – but in a new context. I'm still a newbie, but so far, I have really enjoyed working with my fellow Trustees, and with the executive team. The wide range of experience and perspectives round the table at AFCFT meetings leads to excellent discussions and, I think, enables us to give thoughtful and balanced advice to the Trust. I'm really glad I joined."
Without their time, dedication and scrutiny, we wouldn't be able to offer the fair and ethical grant making we do. Their involvement is integral to the support the Trust can provide to those working with our Forces, Veterans, and their families now and in the future.
To each one of our Trustees, we say a huge thank you for all you do!