Fighting with Pride is awarded two grants from the Trust
Fighting with Pride have been the recipient of two grants funded by the Armed Forces Covenant Fund Trust (the Trust).
"LGBT+ Veterans Out and About" is part of the Positive Pathways programme and Fighting with Pride were awarded £35,000 to provide carefully matched outdoor activities in an exclusively safe LGBT+ environment, while promoting camaraderie and friendship.
The organisation was also awarded £70,000 as part of the Trust's Tackling Loneliness programme. "Developing a Network to Reduce Isolation in the LGBT+ Veterans Community" aims to develop and support a network for LGBT+ veterans who feel socially isolated, and to provide solutions to this isolation where barriers to inclusion exist.
Veterans who contacted Fighting with Pride through the Tackling Loneliness Programme were then invited to attend a Positive Pathways programme "befriending week" in Snowdonia.
Fighting with Pride are now delighted to announce that they have now held two befriending weeks in Snowdonia, the first of which was led by joint Chief Executives Caroline Paige and Craig Jones. They supported a mixed LGBT+ veterans' group and experienced a fun, motivating, and at times, a very moving week. Fighting with Pride say that those reaching out to them have mostly never had contact with a veteran organisation before.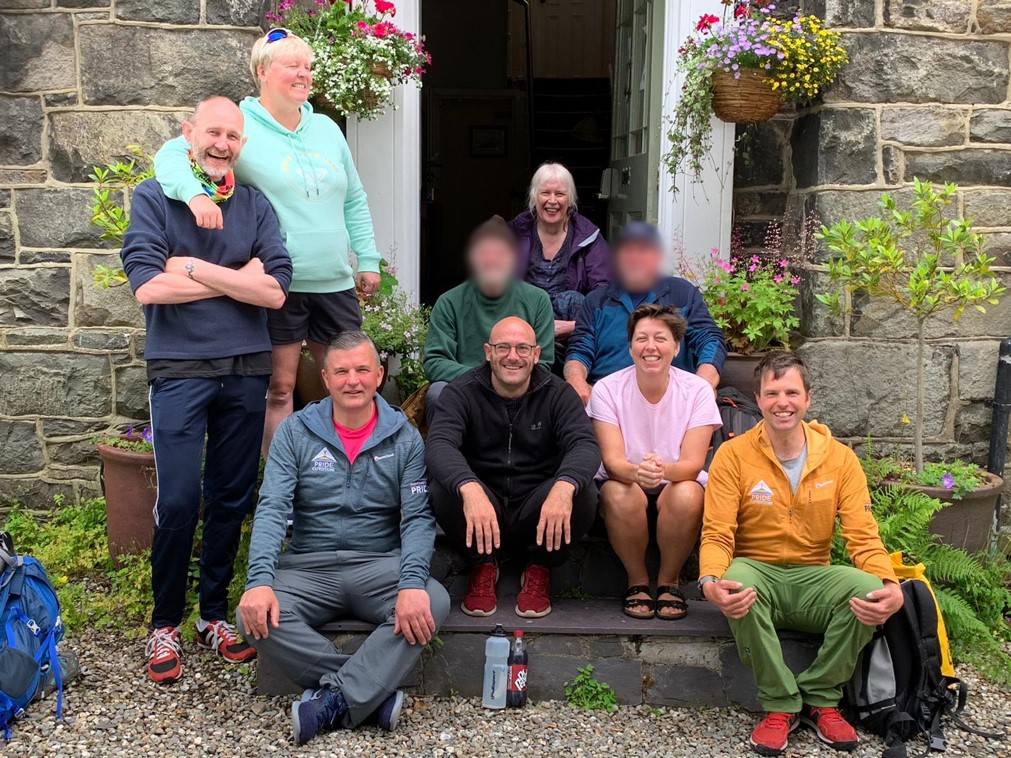 The second week in September brought together 10 former members of the Women's Royal Army Corps. The feedback for Fighting With Pride has been profound, of friendships made for life, and of loneliness displaced by camaraderie that many believed they would never see again. They are holding one more "befriending" week in 2022 and look forward to extending the opportunity to 10 more isolated veterans.
The emotional words written by the veterans who attended clearly showed the impact that the befriending weeks have had on socially isolated veterans:

"I don't think I would have even considered being involved if it were a non-LGBT organisation, they do not have the 'in' on what was done to us."

"I have made friendships that will stay with me forever. It has made me realise what I'm missing in any life. My mental health has improved dramatically. I have struggled a lot since leaving the forces. Thank you so much, FWP."

"When I first got involved I was very nervous and not sure how I would fit in, I have always hidden the fact that I am gay, in FWP everybody was gay and there was no spotlight'.

"FWP has given me a sense of belonging. I'm starting to truly understand the impact. Hearing others tell their stories has made me realise that I am not alone. That's massive for me."
One of the female veterans who attended stated:

"I found being warmly accepted by a bunch of strangers overwhelming. My world has diminished significantly over the years and my social circle is non-existent. It was apparent very quickly that FWP recognise in each other an understanding of the injustice and the anger we share. I have proof that I am not alone in my feeling and that I am not the only one profoundly affected by the ban. I have a support network; friends and I have a sense of purpose."

Fighting with Pride say that this female veterans' story is very common to the contact they receive. Calls to their helpline commonly last 60-90 minutes and the tears flow, which shows that the impact of finding a service which truly understand their "lived experience" is building a community, which is really having a remarkable impact.

It has also been announced that for Remembrance Sunday 2021, LGBT+ veterans will honour fellow servicemen and women at the National Service of Remembrance. It is the first time LGBT+ veterans have been openly invited to the event at the Cenotaph.
Craig Jones MBE, Joint Chief Executive of Fighting With Pride, said: "It's with immense pride that we will see LGBT+ veterans remember the service and sacrifice of members of our Armed Forces who gave their lives for our peace and freedom at the National Cenotaph. Standing alongside fellow veterans means a great deal to our community and being able to play a role in the day is a great honour for us all."
Caroline Paige, Joint Chief Executive of Fighting With Pride, adds: "The National Service of Remembrance is of great significance to everyone in the UK and in particular those who have been a part of the military. It's a proud day to see LGBT+ veterans included and one we are all looking forward to."