Scotty's Little Soldiers Awarded with £70K grant from Armed Forces Covenant Trust Fund to Tackle Loneliness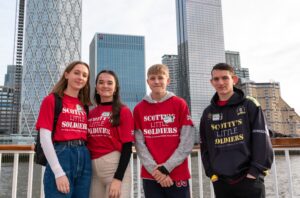 The Armed Forces Covenant Trust Fund introduced the Tackling Loneliness Programme last year to address social isolation within the Armed Forces community, and Scotty's Little Soldiers is the recipient of a £70K grant for a project to support bereaved Forces 11-25 year-olds.
Scotty's Little Soldiers supports children and young people following the death of a parent who served. The charity's beneficiaries are recognised as a priority for society under the UK Armed Forces Covenant, both because they are amongst those who have given the most to our country and because they are likely to have suffered many of the recognised negative early life experiences including, parental loss, PTSD, familial and educational displacement, financial hardship, and young-carer responsibilities for surviving parents and siblings going through similar experiences. Unmitigated, these experiences can have the most damaging effect on wellbeing, relationships, education and attainment, and ultimately future life chances.
Scotty's provides support to bereaved Forces children and young people of all ages up until 25 years. The grant from the Armed Forces Covenant Trust Fund will be used specifically to help fund a project for 11-25 years, which is designed to reduce loneliness and social isolation, whilst enhancing education and life opportunities. The Strides Project will help members build and increase support networks and friendships, whilst enabling them to gain life skills such as improving emotional wellbeing, confidence, self-esteem and resilience. This will take place through a variety of settings including outward bound locations, however, predominantly through virtual and social platforms.
Emma Peppercorn, who leads Scotty's Strides and Springboard programmes, said: "Through consultation and discussions with many of our members we have identified a need to tackle severe social isolation and feelings of loneliness, which is why we have developed a project to address these needs."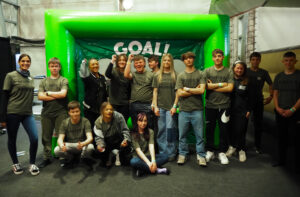 The Strides Project is split into two stages – virtual and physical. Each will provide support and opportunities to participate in fun and challenging activities, whilst building on life skills. A virtual platform will be created first, which will allow members to access information via downloads and forums, participate in virtual events and workshops, interact with other members their age and access group online support sessions. It's hoped members can meet physically later in 2022 and into 2023, where outward bound activities / residentials will take place to encourage teamwork, build confidence, resilience and help with making informed decisions about next stages in life.
Emma continued: "Having lived through the pandemic, it's more important than ever that we look out for our members who have been struggling with isolation. Coping with the death of a parent is so difficult at any age and grief hits at different stages in life and can impact in various ways. This is why we want to give our members the opportunity to mix with others of a similar age, so they can share their experiences, and we want to guide them through the transition from childhood into adulthood."
Scotty's Founder, Nikki Scott, added: "We can't thank the Armed Forces Covenant Trust Fund enough for this generous grant. This is something we have wanted to do for a while and the Coronavirus has amplified the need. We are so glad we are now in a position to put this project in place. Helping bereaved Forces young adults is as important as helping the young children. They all need support in different ways and it's important that we have the flexibility to adapt our support to make it relevant to the individuals."
Sonia Howe, Director of Policy and Communications for the Trust, said: "The Tackling Loneliness programme focused on targeting those within our Forces communities who can be the hardest to reach and who are the most isolated. Service children and young people who've suffered bereavement will have the chance to improve their emotional wellbeing and strengthen their friendships and support networks through the Scotty's Strides Project. We are pleased to see these young people being supported through the huge challenges they face and we're looking forward to the positive outcomes of this exciting programme of activities."
To learn more about Scotty's Little Soldiers visit: http://scottyslittlesoldiers.co.uk/  
If your organisation supports the Armed Forces in anyway you might be eligible for funding. Take a look at our programmes page.