The Trust's 'Sustaining Support' awards over £1.7million in second round of grants
The Trust is delighted to announce that 'Sustaining Support' has awarded over £1.7million in it's second round of grants. These grants will help charities to sustain activities and services that people from Armed Forces communities use and value, particularly where there have been additional difficulties as a result of the Covid pandemic
Two Funding Tracks, Core and Project
There were two funding tracks in the Sustaining Support programme. Organisations could only pick one track, either a project funding or the core funding track and receive one grant award from this programme. Grants of up to £50,000 or up to £100,000 were available and sixty-six organisations have benefitted from Sustaining Support grants.
Back, and stronger together
One charity to receive an award from the Core funding track was the Military Wives Choirs, who were awarded £100,000 for the project 'Back, and stronger together'.

As a small charity, Military Wives Choirs, relies on performance opportunities to bring in much needed funding to keep the choirs network thriving. Since the start of the pandemic the charity has lost an estimated 25% of its annual charity income due to cancellation of performances and events. This vital funding will help sustain the Military Wives Choirs in lieu of normal funding streams.
Melanie Nightingale, Director of Military Wives Choirs, said this about the grant
"We are absolutely delighted to have been awarded this Armed Forces Covenant Fund Trust, Sustaining Support grant, which will enable us to maintain support to our network of over 70 choirs across the UK and overseas. Our members include all women whose lives are currently impacted by their military connection; this funding will allow us to continue providing life-changing and uplifting experiences through music. We are incredibly grateful for the ongoing support of AFCFT as we emerge from the effects of the pandemic and look forward to our charity's 10th anniversary next year."
Vulnerable Veterans
From the project funding track, Erskine were awarded £99,959 for their project 'Social Support for Vulnerable Veterans' and had this to say about the award…
"Erskine is delighted to have received a generous grant from the Sustaining Support programme. This grant of £99,959 will play a vital role in the continuation of Erskine's Activities Centre which provides support and social engagement for over 120 veterans of all ages. Our Centre will safely deliver its extensive activities programme in line with all COVID-19 guidance and continue to help veterans access our partner organisations when they need of additional support. Our project helps vulnerable veterans to benefit from greater confidence and self-esteem, increased social interaction and development of new skills. Our Centre is entirely funded by generous donations.

I would like to sincerely thank The Armed Forces Covenant Fund Trust for your continued outstanding support which will help our Centre's veterans enjoy the high quality of life that they all truly deserve."
Gareth Toner – Trusts and Foundations Manager, Erskine
Helping Veterans to live fuller lives
The Matthew Project applied for a Sustaining Support grant under the project track. The Matthew Project helps Veterans live their lives free from drug and alcohol misuse. They help Veterans who have had great difficulty transitioning back into civilian life after leaving the Armed Forces. This can be down to a multitude of reasons, which can include problems with alcohol and/or drug use. This is often tied in with mental ill health, with PTSD playing a major role. The majority of Veterans that go to The Matthew Project have a dual diagnoses and a high levels of need.
As a successful applicant, The Matthew Project will use this awarded grant off £73,932 to continue to support Veterans in Suffolk and Essex through their project 'Outside the Wire: Suffolk/Essex'.
Wayne Copsey (RAF Regt Ret`d) Service Manager/Recovery Practitioner said this about the grant…
"Receiving the Sustaining Support grant will enable the Outside the Wire practitioners to continue to provide much needed support to our most vulnerable veterans who are having issues with substance misuse and/or PTSD. Without the support our project has received from the Armed Forces Covenant, we would not have been able to continue our work in all the areas we cover, which would result in many veterans ending up disengaging and not getting the help they need"
For a list of all the grant awards, please view our grants page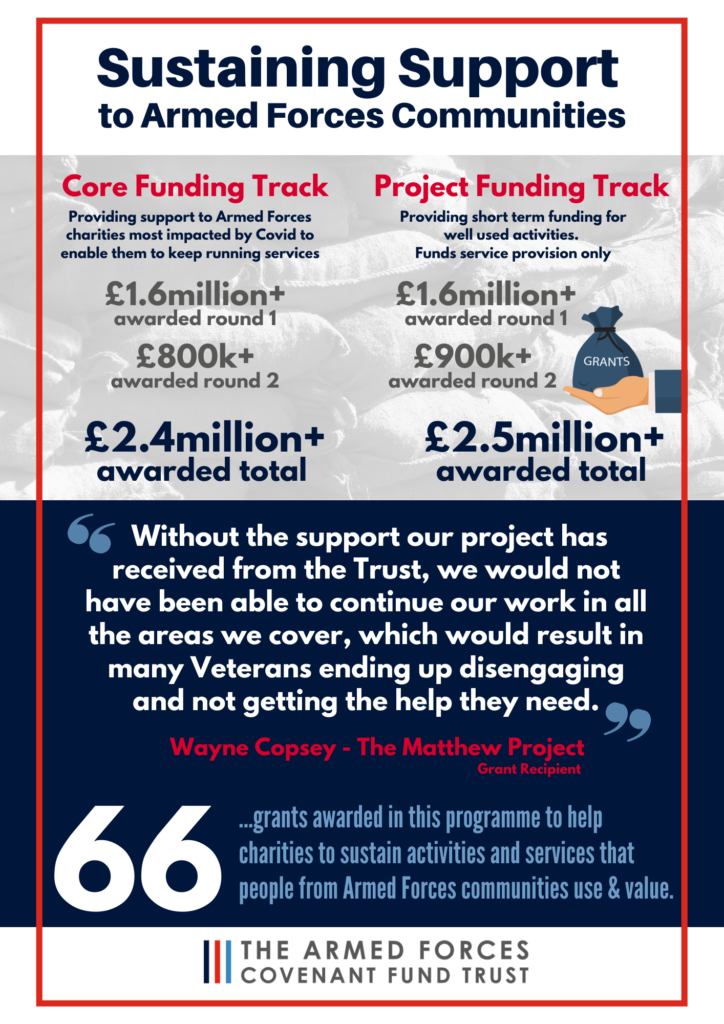 ---