Scotland's largest heritage mural – now arriving at Colinton Tunnel
Thanks to funding from the local community and various charities – including funding from the Armed Forces Covenant Fund Trust's Local Grants programme – a 140 metre stretch of tunnel on Edinburgh's Water of Leith Walkway has been transformed with illustrations wall to ceiling designed by Scottish muralist Chris Rutterford.
The amazing final result has been more than two years in the making and more than 600 local young people contributed their skills and enthusiasm; as did young families at the Army's Welfare Service at Dreghorn Barracks, and members of the Pentlands Art Club.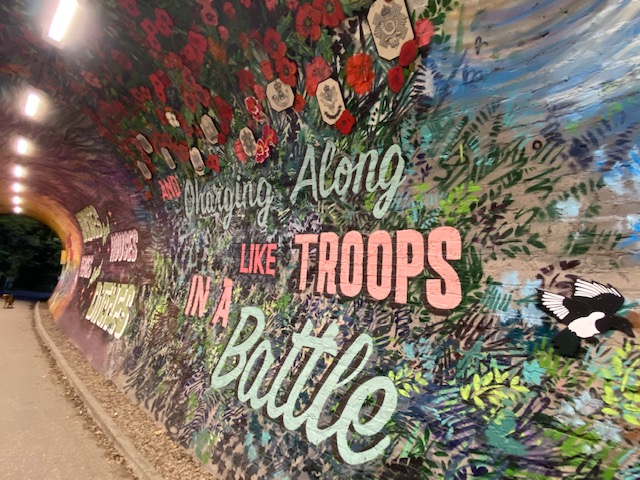 The illustrations use Robert Louis Stevenson's short poem "From a Railway Carriage" as inspiration, linking each line of the poem to elements of local history. For example, one line of the poem says "charging along like troops in a battle".  Those words link to a field of blood-red poppies, painted by members of the Pentlands Art Club, and the crests of every regiment to have been based in Colinton since Redford Barracks opened in 1919. 
Stevenson's grandfather was the Minister of Colinton Parish for 30 years and the poet himself spent many happy days in Colinton as a child. 
The illustrations cleverly combine the poem with a celebration of local history, including the Balerno Branch Line and the Balerno Pug, a specially built engine designed to serve the many mills that were powered by the Water of Leith. The last goods service whistled out of the old Colinton station in December, 1967.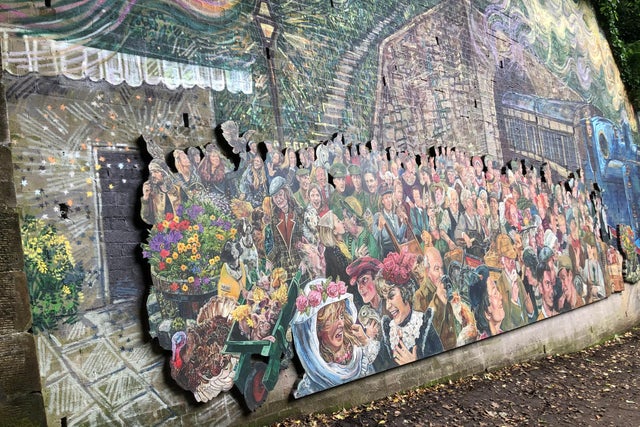 At the end of the tunnel, on a 7-metre high brick wall, a huge crowd of people (all real, almost all local) wait for the Balerno Pug as it pulls up to Colinton Station's platform in a cloud of smoke and steam.
The project has already brought thousands of visitors to the village and has helped to rejuvenate the area by creating a brighter and safer environment, connecting the story of the railway line to the community and its history.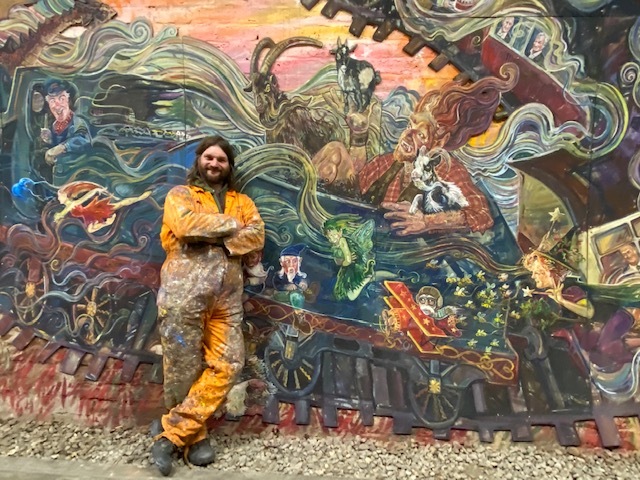 Artist Chris Rutterford explains: "We have tried to encapsulate the community in the piece of art and in the process have added various notable faces to give it that lasting legacy.
"There is a real intersection of traditional work alongside the honesty of the kids which makes it really profound and a beautiful piece."
You can discover more about the Colinton Tunnel project at their website www.colintontunnel.org.uk